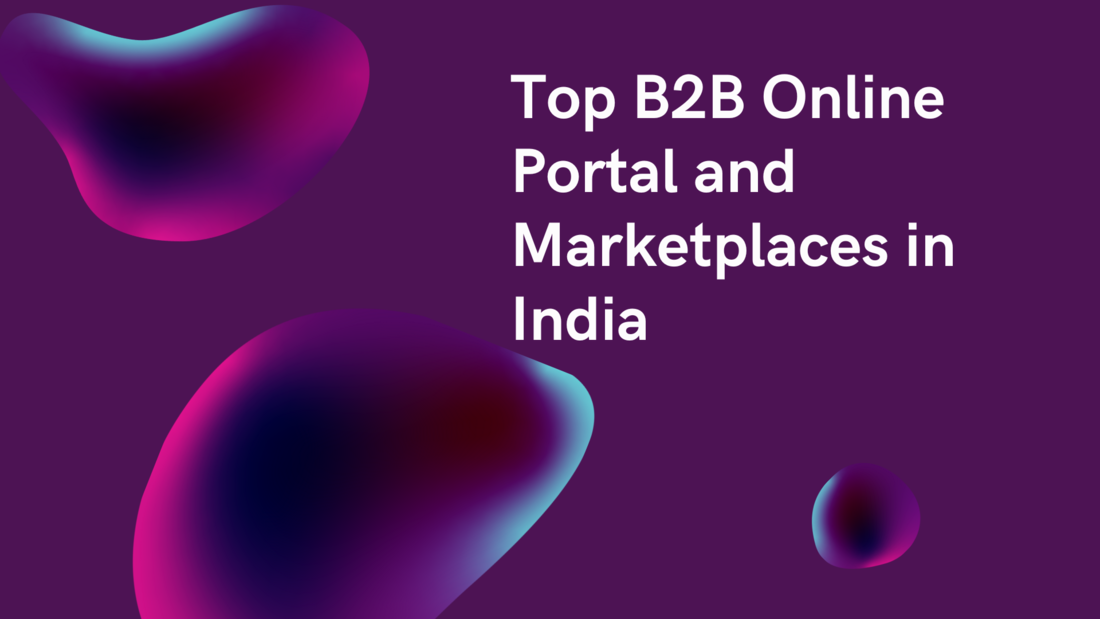 Top B2B Online Portal and Marketplaces in India
The times when "going shopping" was a genuine thing are long gone. Our fingers are moving quicker across our gadgets as the e-commerce sector expands quickly, making India's digital revolution the world's quickest. Both B2B and B2C ecommerce portals are making every effort to lay down roots as the nation's digitization broadens its horizons.
Many smaller manufacturers and distributors are also eager to enter the fray because of e-revenues, commerce's reach, transparency, and low operating costs.
India today has a boatload of B2B online marketplaces where you may launch your business as a result of the COVID epidemic. Many of you may be familiar with a variety of B2B applications available in India, but we are confident that we can expand your understanding of B2B platforms. Consequently, let's review these Top B2B Portals in India.
 
B2B e-commerce platforms in India

 
1. Amazon Business

The finest business-to-business applications in India include Amazon, which need no introduction. Millions of people trust this brand, and it is loved by all. In essence, Amazon Business offers you purchase options that let registered businesses and their staff shop on Amazon for professional products. One may register for a free business account and personalise it. It is accessible to all sizes of businesses, big or little.
 
2. IndiaMART

This is another well-known platform that keeps climbing the list of the top business-to-business portals in India. IndiaMART, which is the biggest online B2B marketplace, has a lot to offer suppliers and customers. You may find the broadest selection of goods and vendors here, all of them offer payment protection plans. With this well-known b2b platform, you can undoubtedly raise the reputation of your business. Since 1996, IndiaMART has dominated the market.
 
3. TradeIndia
Founded by Bikki Khosla in 1996. One of India's leading B2B platforms, TradeIndia has more than 20 million registered members. It is kept up and marketed by the company's parent, Infocom Network Ltd. Tradeindia is a significant player in this effort, uniting sellers, buyers, and manufacturers. Tradeindia subsumes a massive number of company profiles and product catalogues under 1,581 distinct product categories and subcategories with unrivalled skill in data collecting and online advertising.

 
4. Udaan

This B2B online marketplace was established in 2016 and has already seen great success. It operates in a variety of industries, including general goods, FMCG, pharma, toys, home & kitchen, basics, fruits & vegetables, and electronics. Udaan, which ranks among the top business-to-business applications in India, serves as a catalyst for the over 60 million MSMEs there by enabling transparency, affordability, accessibility, and national reach for 15 million manufacturers, 25 million merchants, and 10-12 million institutional enterprises.
 
5. Alibaba

Alibaba, which was launched in 1999 in China, quickly grew roots in India and attracted the attention of billions. This internet market operates around-the-clock as a virtual trade exhibition. With a set of tools designed specifically for business-to-business commerce, Alibaba has improved sales by connecting small-to-medium-sized firms with potential and experienced business customers. The site is used by buyers from more than 190 countries to communicate with suppliers. Each day, they send and receive millions of messages.

6. Power2SME

The business was established in 2012 and quickly became India's first buying club for SME's. This business-to-business platform seeks to support SMEs in running efficient operations by locating input raw materials at the most affordable price points across a variety of products in categories including metal, polymer, chemicals, yarn, and more. Power2SME's headquarters are located in Gurugram, and the company also has six more offices in Mumbai, Chennai, Kolkata, Ahmedabad, Surat, and Pune.
 
7. ExportersIndia

Ankit and SK Gupta launched this internet store in 1997. In the present state of the global market, commercial firms have profited from much-needed marketing and exposure in ExportersIndia. Weblink.in Pvt Ltd., one of the top companies for web design, development, and e-commerce solutions, is the owner and operator of this portal. This online B2B directory is the home to countless goods and companies from all over the world, making it the perfect place for anybody who wishes to see a growth in the situation of international trade.